Hair transplantation is a surgical technique that extracts hair follicles from one part of the body and implants them to a balding part of the body. The extraction site is called "the donor site" and the implantation site is called "the recipient site".
According to Hair Society, 35 million men and 21 million women suffer from alopecia or hair loss worldwide. Over 650,000 of them undergo hair transplant surgery annually.
This number has been increasing since the number of people suffering from baldness/hair loss/alopecia has been on the rise.
Development of new hair transplant techniques that are minimally invasive and nearly painless and having reduced recovery times increased the demand for hair transplantation operations.
In this blog, I'll go over
What is a hair transplant?
What are hair transplantation techniques?
What is a hair transplant?
Hair transplantation is a surgical technique that extracts hair follicles from one part of the body and implants them to a balding part of the body. The extraction site is called "the donor site" and the implantation site is called "the recipient site".
Balding/hair loss may occur due to various reasons such as:
Male pattern baldness (AGA, Androgenetic Alopecia),
Alopecia areata
Trichotillomania
Lichen pilanopilaris
Metabolic syndrome and insulin resistance
Oxidative stress
Stress and anxiety
Nutrition Deficiencies
Generally, hair follicles are taken from the side and back of the scalp since they are more shedding resistantdue to affects of androgens. This is due to the fact that they have inherently fewer or no 5-alpha reductase type II enzyme.
Dihydrotestesterone (DHT) is the main cause of male pattern baldness (AGA) and a byproduct of testosterone. A high level of DHT affects the hair growth cycle and makes follicles smaller.
The coolest thing about hair transplant is that the transplanted hairs keep their DHT resistance in the recipient area making the results permanent.
The aim of the hair transplant is to restore the former natural look with a natural hairline and covered bald spots.
The operation is generally preferred by people who are uncomfortable with their external appearance evolving through time resulting in a lack of self-confidence, social phobia, and anxiety.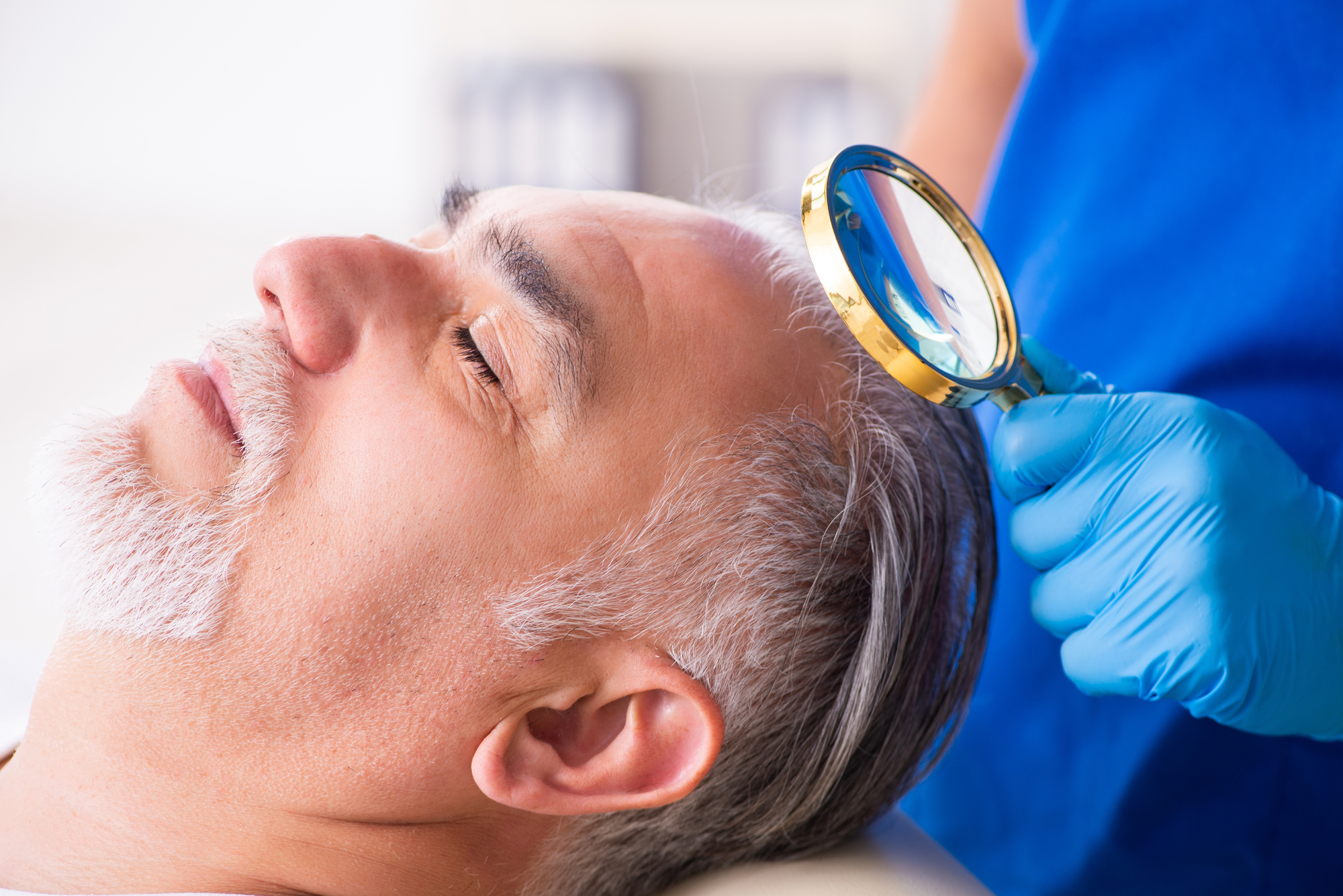 WHAT ARE HAIR TRANSPLANT TECHNIQUES
1.FUT
In a Follicular Unit Transplantation (also referred to as Follicular Unit Strip Surgery,FUSS), the surgeon extracts a strip of grafts from the donor area and implants it into the bald area. The donor area is stitched or stapled and the strip of hair is divided into follicular units to be used to cover bald areas.The operation takes around 4-6 hours. It generally leaves the donor area with scars. A natural look in the donor area is not guaranteed.
2.FUE
Follicular unit extraction (FUE) is done by taking hair follicular units from your donor areas and moving them to bald areas of your body where hair is thinner or absent.
Hair follicles are extracted using a tiny punch tool without harming the tissue.
After the FUE technique, the classic FUT technique lost its popularity. That is mainly because FUE does not cause any visible scar in the donor area if the surgery is done correctly (no stitches or cut marks). However since follicles are extracted one by one, it takes more time (6-8 hours) and is more expensive.
Sapphire FUE
The difference from the classic FUE technique is the blade used during the channel creation stage.
In classic FUE, steel blades are used, whereas in Sapphire FUE, as the name indicates, sapphire blades made from precious gemstone, sapphire is used.
Sapphire blades open very fine incisions and cause fewer wounds. Therefore, it results in faster recovery and increases the likelihood of success.
3.DHI
Direct hair transplantation (DHI) only differs from FUE in the implantation stage.
Instead of manually cutting channels in the scalp in the implantation stage, a special pen-shaped tool called "Choi Implanter Pen" is used to simultaneously open channels and put grafts.
The main advantage of DHI over FUE and FUT is that the surgeon can easily
manipulate the implant's angle, direction, and depth using the Choi Implanter Pen. Thus, more natural results can be achieved.
This increased precision comes with an increased cost, it is more expensive than FUE and FUT. If done correctly, DHI has a faster recovery time since it causes less trauma and bleeding on the scalp.
Conclusion
There are a couple of hair transplantation techniques and each has its own advantages and disadvantages. You can choose the method with respect to your budget and expectations.
The results of each technique are permanent when done by an expert physician.
And finally, be careful about the most overlooked thing about hair transplantation; it is an actual surgery and requires an expert dermatologist hair transplant surgeon.
As a patient, you need to be picky and should question the clinic and physician.
Author
Dr. Utkan Kızıltac graduated from Istanbul Marmara University, Faculty of Medicine in 2012. He has worked in the Dermatology and Venereology departments of numerous hospitals. He treated more than 50.000 patients having skin, scalp, and hair loss issues in his career.
Detaylı bilgi için
randevu
alabilir veya
444 54 33
çağrı merkezimiz ile iletişime geçebilirsiniz.
Bilgilendirme amaçlıdır.
---
22 Eylül 2021 Çarşamba - 11:12